Today is the day: Daniel Hofmann's highly anticipated documentary about 40 years of German Thrash Metal will be premiered in the "Lichtburg" in Essen, Germany's biggest cinema.
REZET is part of it, on the screen as well as special guests of the event, alongside Teutonic Thrash legends such as Kreator; Destruction; Sodom and others, as well as a bunch of "New Wave" bands including us.
Check our social media stories to be updated today as we invade the red carpet of the Lichtburg and are enjoying the movie with a sold out house of 1000 visitors.
The film will also go on a nation-wide tour through cinemas and will be shown in our home town of Schleswig on June 10th. Click HERE to get your tickets!
TOTAL THRASH!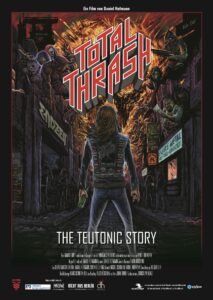 ---