When REZET released their last album Deal With It! in 2019, it made clear that the band wasn't an all-out punishing one-trick pony but a more multifaceted beast that deserved praise on an international scale. Being cherished for its "perfect nature to go for the appropriate musical hook and channel it up, down and across the metal spectrum" (DeadRhetoric.com), "formidable singer" and "ontrasting diversity" (Rock Hard Germany), the record introduced the four-piece to a wider audience just as the members themselves had broadened their scope stylistically.
However, evolution was never supposed to stop there, a fact that now, not even two years later, Truth In Between gives proof of in the most impressive way. "I guess it's fair to say the last six months have been a turbulent time for anybody who doesn't live under a rock," says frontman Ricky Wagner about recent events that informed his new music and lyrics alike. "I've thought a lot about how we communicate with each other, and while it is crucial to listen to other people's opinions in order to understand how they tick, you often find yourself touting tolerance yet insinuating that your position is superior and the only valid one. In voicing it, I state it as indisputable truth."
"I guess it's fair to say the last six months have been a turbulent time for anybody who doesn't live under a rock."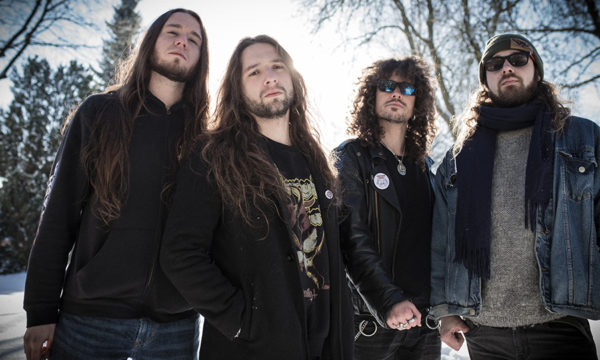 It is maybe for this reason that 'Truth In Between', a bookish earworm citing Oscar Wilde's famous observation that "man is least himself when he talks in his own person. Give him a mask, and he will tell you the truth", turned out to be the title track; after all, it encapsulates both the group's generally pensive mood and musical search for their own "truth" in intermediate spaces … because stereotypical Thrash Metal has long since become insufficient as their sole means of expression. "We wanted to get away from all the finger-pointing and sermonizing that comes along with this style although we maintain our clear stance against right-wing extremism in particular," the lyricist clarifies after having seen the fundamental right of free speech backfire on a grand scale in an allegedly civilized global community.
To drive their message home, REZET have written what he describes as "our most song-oriented album to date. Before, we were way more prone to overplaying and showing our chops whereas now, it's the joint effort of four very different characters with their respective influences. I never wanted to pigeonhole ourselves anyway, so going into the creative process, we thought: fuck it, let's simply do what we want, we are accountable to nobody but ourselves." Having said that, Truth In Between is by no means artsy, stodgy or even merely eclectic – on the contrary.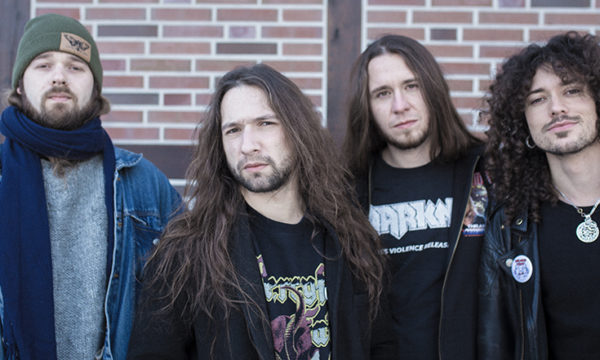 Whereas long-time fans will immediately feel comfortable with furious opener 'Back For No Good' and 'Deceived By Paradise', both the downcast 'Infinite End' and the nimble-footed melancholy of 'Never Satisfied' get unashamedly close to power ballad territory, all the while demonstrating how obsessed the band is with minute sonic details. To highlight these, returning to familiar recording facilities in Hamburg, Germany, was a foregone conclusion.
"Eike Freese made Chameleon Studios our second home," continues Ricky, who followed the idea to record all rhythm tracks live. "He agreed that in hindsight, our last full-length sounds a bit too slick, and since he had finished working with heavy rockers Hardbone in a similar setting before, our stuff came about neatly." Rewarding the endeavour, highly dynamic fare such as 'Half A Century' (featuring guest guitarist Sonia "Anubis" Nusselder from Crypta and Ex-Burning Witches) or the anthem 'The Plague', thickly underline the quartet's compositional prowess and sheer musicality.
Speaking of the latter, 'Populate. Delete. Repeat.' sticks out in several respects as a stomping behemoth that detours into full-on speedy territory with wistful double leads and a tasteful solo section, only to return to its pummelling beginnings. All the while, the lyrics paint a stark picture of the current state of affairs just as the almost punky sing-along 'Renegade' takes a cynical look at ubiquitous superficiality and keeping appearances. Towards the end, REZET ramp up the complexity in all respects: 'Uncertain Crimes' and 'Last Suffer' not only engage in smart wordplay but also roll and rage, pace and pound, thrash and think aloud in equal measures – resounding reflections on the human condition in a weird world of our own making.
"It's great to be able to vent one's concerns through music,", the band's charismatic vocalist concludes with something like a mission statement. "Figuring out things on your own as you go, you get to know yourself better, too!"
REZET are:
Richard "Ricky" Wagner: guitar, vocals
Bastian "attt" Santen: drums, backing vocals
Heiko Musolf: guitar, backing vocals
Lorenz Kandolf: bass, backing vocals
Discography:
2010: Have Gun, Will Travel
2012: Civic Nightmares
2015: End Of A Decade (DVD)
2016: Reality Is A Lie
2017: You Asked For It… (EP)
2019: Deal With It!
2021: Truth In Between