We're happy to announce our long time friend and former session guitarist Jan-Erik Fischer has officially joined our ranks!
Fischer was part of the band in early 2018, filling in for a couple of shows in Germany and the Netherlands as well as during a two week long tour through China.
He then had to leave for several reasons and was replaced by Berlin located guitarist Heiko Musolf, who joined REZET in summer of 2018.
REZET founder and mastermind Ricky Wagner adds:
"This guy is by far one of the best guitar players I know personally, in terms of technique, harmonizing and feeling. We're kind of coming from the same background, not only locally but also musically. He's bringing some more of that old school and original understanding of Rock'n'Roll into the band, treating it as a mission and music as life, not as an image or phase.
I got to know him many years ago, when our drummer 'attt' joined us and jammed with Fischer in a cover band as well, playing the likes of Hendrix, Purple, Zeppelin and all of that…
I heard some of our camp sayin' that this is already the best line up we've ever had and I will admit that!"
Fischer is now taking over lead guitar duties since Heiko Musolf left the band by the end of last year.
New music is set to be released soon, stay tuned and please welcome our new member!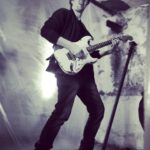 ---