As the "Truth in Between" cycle comes to an end, we inform you that Heiko is no longer part of Rezet.
Some of you may already know that we agreed to part ways on both sides by the end of last year. This decision was made after long time of consideration. The reasons are complex and involve many different aspects.
Heiko is very thankful for your support and love and will always look back proud on the creation and achievements together with the band, friends and fans.
He will keep you posted about his ongoing path as a musician and invites you to follow him on his journey.
We wish Heiko the best for his future life and want to thank him for his music and effort he brought to the band, starting with his debut at Wacken Open Air in 2018 and contributing on the albums "Deal With It!" (2019) and "Truth In Between" (2021), as well as touring Europe twice and playing lots of other shows together.
We will inform you shortly on Heiko's replacement in the band and can't wait to come back, stronger than ever, both musically as well as personally.
Stay tuned for all news soon…
Photo byJean-Michel Jorissen.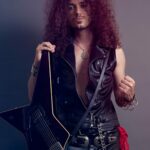 ---