REZET welcome Lorenz Kandolf!
We're thrilled to announce that our former "mate only" and session bassist for our most recent album release live stream joined our ranks officially!
Lorenz Kandolf officially is the new guy in the band. Filling in for Bjarne Otto, who left the band earlier this year.
"Super happy to announce that I am the new bass player in REZET", Lorenz remarks. The southern German furthermore states: "It was a quite unorthodox way of joining… but after sacrificing two virgins, eating a pound full of licorice, doing a backflip (during the first try and then all of it at the same time), we all agreed that the initial situation is intriguing and maybe we should play some more tunes together!".
Surely, there is a bit more to the story. Says Lorenz: "If you want to hear the whole backstory, make sure to join us backstage [www.rezet.de/backstage]! It's like OnlyFans (in case you know it), just with music… and you hear me talking! And – maybe I will show you some skin too", Kandolf is joking.
Singer / guitar player Ricky Wagner details, "we met Lorenz at Wacken Open Air 2018 for the first time in person, when he and his Teutonic Thrashers in Traitor played just a slot before us on the same stage".
Now everything falls into place and REZET is a full cast again.
Find out everything about Bjarne leaving the band and our new brother Lorenz at our new fan club BACKSTAGE!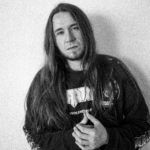 ---