Fans and friends,
January 29th, 2021, marks the release date of our new album, "Truth In Between"! That day is a Friday.
The following nite, Saturday, January 30th, 2021, 8 pm CET / German time (20.00 hrs), we will play live – for the whole world to watch!!!
"Truth In Between – A night out with REZET" is going to present you a full live stream Metal show by REZET, with some nice add ons to watch that very nite!
We'll be thrashing through the best of our past set plus brand new tunes from our new album – let's all make it a night neither one of us will forget. While you can lean back in your sofas (or headbang in front of the screen), have a few drinks and simply enjoy the show.
By purchasing your tickets (for only 5€!), you're are going to witness our first show in 2021, and thereby also support crews, bands, simply the whole teams behind these events.
Support Live Music – especially in these heavy times!!!
We can't wait to rage with you all!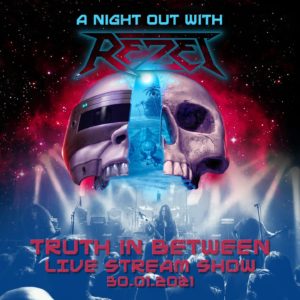 Stay sane,
Ricky, Bastian, Heiko, Bjarne + crew!
---